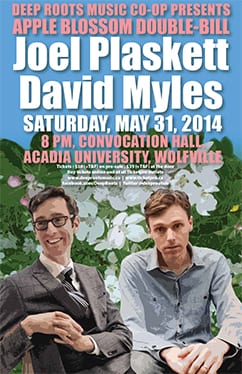 May 31, 2014 | 8PM
Convocation Hall, Acadia University, Wolfville
Deep Roots Music Cooperative, in partnership with Annapolis Valley Apple Blossom Festival, bring these two much loved East coast performers together to share the stage for what will be a memorable concert.
We expect this to be a sold out show so buy tickets right now.
Tickets: $30 or $35 at the door (+T+F)
Tickets on sale now through the TICKETPRO system and all its outlets.