This very exciting new event, launched last year, is returning this year in conjunction with the Deep Roots Music Festival. Whether you are a beginner or a more experienced musician, if you want to invigorate your musical life, this camp  – offering a choice of workshops, working with seasoned pros, and making connections within a unique creative community –  is for you!
Music Camp runs Wednesday through Friday, September 21-23, and then, on Saturday, September 24, 10am, at Al Whittle Theatre, a Music Camp featured concert at Deep Roots Music Festival … for details,
As part of Music Camp, choose from 3 classes each day, 3:00pm – 5:00pm; and then participate in  'Slow Jams' from 5pm till 6pm each day.   Learn new tunes, techniques, and instrumental skills –  3 hours daily, 3 consecutive days in classes with same instructor (2 hour classes, 1 hour jam).
Alex Kehler – fiddle, nyckelharpa and mandolin; Scandinavian & Quebecois repertoire 


Nicholas Williams – flute/winds, piano accordion/keys, and harmony singing; Scandinavian & Quebecois repertoire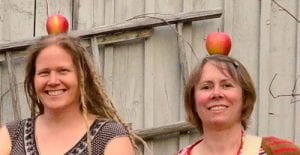 Songwriting – Kim Barlow and Heather Kelday will lead students in exercises for generating song ideas, help them 
learn how to edit and how to choose musical ideas that support the lyric material of their songs.
For the first part of each session, Alex and Nicholas' students will go with their instructor and learn new Scandinavian and Quebecois tunes – aiming to learn at least 2 tunes each day. For the last hour, the groups will join and play the tunes together in the slow-jam format. The songwriting group will join, and throw their songs into the mix. Instructors will help create arrangements and find fun ways to insert traditional tunes into new songs to make for a slick student concert at the end of the camp.
Alex and Nicholas know a wide variety of styles and can teach Celtic, Breton and many more types of tunes – you, as the student, can help steer the learning in directions you'd like to go.
The camp will accommodate all levels from beginner to advanced, and will operate in an inclusive, collaborative environment with coaching from seasoned pros. With the small class sizes, individuals will be able to get the support they need, and the groups will all work on the same material, with less or more complex versions to suit the students' abilities.
Deep Roots Music Camp will provide a wonderful opportunity for your own personal explorations in your relationship to music.

Each class will have a minimum of 5 to a maximum of 12 participants
$100 per person. Registration deadline is September 18th, 2105.
Music Camp registrants get a discount of 10% on Festival passes, are invited to have meals with performers and volunteers during the festival, and can attend our private, after hours party on Saturday, September 26th.
Contact: , (902) 542-7668 for more information or to sign up.
MUSIC CAMP SCHEDULE:

Wednesday, September 21

2:00 pm orientation & introductions – Wolfville Curling Club
3:00 – 5:00 class – Wolfville Curling Club and Studio Z

5:00 – 6:00 all groups join for slow jam – Wolfville Curling Club
Thursday, September 22
3:00 – 5:00 class – Wolfville Curling Club and Studio Z
5:00-6:00 slow jam – Wolfville Curling Club

Friday, September 23

3:00 – 5:00 class – Wolfville Curling Club and Studio Z
5:00-6:00 slow jam – Wolfville Curling Club
Saturday, September 26
10:00 – 11:30 Student Concert – Al Whittle Theatre
Singing
Lots of singing will be included in all of the classes so students who want to participate, but don't have an instrument, can still take part and benefit.  Harmony singing and how to find harmonies will be part of classes and there will be plenty of songs to find your own voice in.

Slow Jams

In slow jams, one of the instructors will lead the group in playing songs and tunes both familiar and new, calling out the chord changes so beginners can follow along. This is a great opportunity to learn jamming etiquette, how to pick out chord changes and melodies on the fly, and practice taking "breaks".
Student Concert
On Saturday morning, students will have the opportunity to perform songs they worked on during the camp, and the songwriting class can debut their completed masterpieces. This concert is open to all festivalgoers, so prepare to strut your stuff.