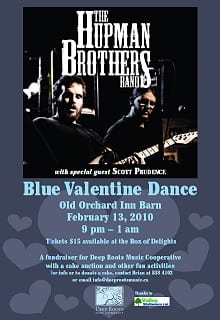 February 13th's dance at the Old O Barn was SOOOO much fun. The Hupman Brothers band (including Ryan and Scott, Mike Carrol, plus Bob Federer, Caleb Miles and Brian Chipman) were in fine form, and they were joined by special guest Scott Prudence. And much to our delight, the Hupman's good friend Matt Andersen joined the band for a couple of songs in the final set.
Thank you to everyone who contributed to make our Blue Valentine Dance successful, and specifically I want to thank:
The Hupman Brothers, who partnered with us in putting on the event – basically they handled all the technical side of the program, and shared the publicity work with us. They let us do our fund-raising and were great sports about us taking over the microphone when we needed to announce something.
Brian Chipman for his work initiating the event and laying the groundwork.
Steve Slipp for poster design.
Valley Stationers, and Rick Clayton, for printing our posters for us.
Jim McLellan who helped with the organization of the event, printed the event signs, and hung posters.
Our cake-makers: Donna-Lynne M. Holmes, Prasado (Berta Klooster), Marie White, Jerusha Young, Linda Wheeldon, Lella Gmeiner, Gourmandises Avenue, and Paddy's Pub. The cake donations were wonderful – so varied and so delectable. Our cake auction was great fun and it brought in $327.
The winner of the first 50/50 draw who kindly donated his winnings back to Deep Roots!! What a generous decision THAT was!
Marie Jardine for her ideas, for recruiting June to auctioneer for us, and for her help at the event including being one of the 'Fancy Dancers'.
June Granger our auctioneer and one of the 'Fancy Dancers'.

Oriana (Angie Jenkins) for being one of the 'Fancy Dancers'.
Peter Mowat for his help at the event.
A good time was had by all! In total we raised $452.
Many thanks.
Lisa Hammett Vaughan