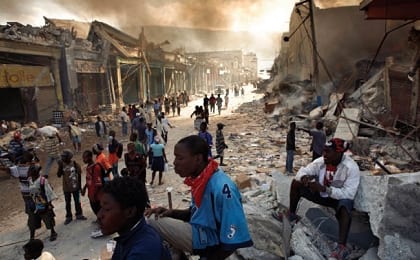 February 1, 2010 – Wolfville, NS – Deep Roots Music Cooperative presented Music for Haiti on January 30th at Festival Theatre in Wolfville and fundraised over $10,000 in support of UNICEF. With matching funds from the government this means more than $20,000 that can be used to help in the aftermath of January's devastating earthquake.
The concert which included David Myles, Ian Janes, Finnan Haddie, The Keats, Sheva, Alice Stops Time, Eugene Cormier and Paula Rockwell was attended by over 300 people. Artist Holly Carr created a 4' x 8' silk painting live on stage which was later auctioned in the show along with tickets to this year's Deep Roots Festival, two annual passes to Evergreen Theatre and a pair of tickets to Two Planks and a Passion's Theatre Off the Grid helped to contribute over $2,000.
Peter Mowat, Chair of the Deep Roots Music Cooperative says, 'We were overwhelmed by the generosity of the community when putting this fundraiser together. Our sponsors made it possible for us to give every dollar raised to UNICEF and we surpassed our own expectations. I would like to thank everyone who was involved as well as those that attended. The music was great and the outcome even better'.
Just Us! Coffee Roasters' staff also helped to make a difference by giving their tips along with a matched donation to add to the final total. Acadia University supplied the venue and Long and McQuade provided the sound equipment.
John Humble, Atlantic Regional Director of UNICEF was at the concert to receive the cheque and said 'UNICEF's priorities are taking care of water supplies and sanitation along with protecting the children of Haiti from being abducted into other countries. This kind of support will help us to continue in our work to rebuild Haiti and ensure the safety of the children. I cannot believe how generous the people of Nova Scotia have been in this time of crises'.