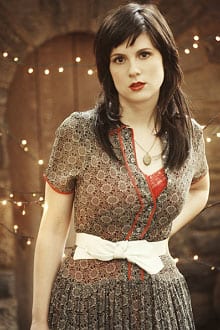 Meaghan Smith was once deathly afraid of the stage.
She left her native Ontario for Halifax, where she gathered up her courage and threw herself wholeheartedly into the open mic scene. Little by little, her self-confidence grew, and she released The Cricket's Orchestra. The album's 11 original songs are rooted in the sound of vintage pop from the 1920s to 40s.
Meaghan's music has been featured on One Tree Hill, Grey's Anatomy and (500) Days of Summer.
To further confirm her rising star, Meaghan will be part of the 2010 Lilith Fair tour, a celebration of women in song co-founded by Sarah McLachlan.
For more visit:
http://www.meaghansmith.com/
http://www.myspace.com/meaghansmithmusic