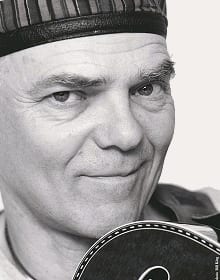 Michael Pickett's mother bought him a harmonica when he was about 13. Influenced by folk-blues greats such as, Brownie McGhee and Sonny Terry, Michael began his music career in the early 70's as a member of Toronto-based band, Whiskey Howl.
Later, he co-founded (and was lead singer and harmonica player) for the blues band Wooden Teeth, and then began developing a career in his own name with the Michael Pickett Band.
He now performs exclusively as a solo acoustic artist touring throughout Canada, the US, the UK and Europe.
Michael's first two solo CD's ("Blues Money" and "Conversation with the Blues" earned him two Juno nominations.
He is also the recipient of several Maple Blues Awards, among others. "This songwriter has evolved into an eclectic and captivating storyteller through Delta Blues, Country, Folk, and Americana, revealing a profound understanding of where this music comes from and why it stands the test of time."
For more visit:
http://www.michaelpickett.com/
[youtube]http://www.youtube.com/watch?v=E_fxDghcB6E[/youtube]