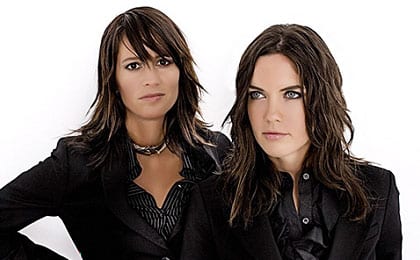 Fiddling singer Lisa McIsaac and guitarist singer Brenley MacEachern are coming to town to both break your heart and lift you up. Described as alt country with a blend of pop folk-rock, their ability to craft a good song and then present it with their exquisite harmonies and lush instrumentation will have you humming their tunes for days to come.
Touring to the far corners of the planet opening for performers like Chantal Kreviazuk, Indigo Girls, Ron Sexsmith, The Temptations or Ashley McIsaac, these "road dogs" have fine-tuned their act over their nine years together and created three albums of their 'haunting lovely and refreshing' music. Their style has been likened to a blend of Neil Young, Dolly Parton, and Simon & Garfunkel 'walking through the doors of "O Brother Where Art Thou"' while hastened by an overture by Alison Krause & Robert Plant. All this is channeled into their own unique sound.
Lisa & Brenley's intelligent & quirky lyrics have a simple poignancy to them, and as the mind fills with vibrant & vivid imagery while they recount tales of broken hearts, life on the road, loneliness and loss, the heart is somehow unburdened of the weight it carries. Madison Violet has a gentle and seductive charm that can easily lure one willingly into dark corners. And you'll likely leave feeling all the better for it.
Photos: Victor Tarvares & Ron Weyman
For more visit:
www.madisonviolet.com
www.myspace.com/madvioletmusic
www.maplemusic.com/artists/mav/