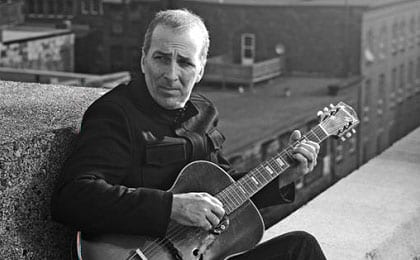 A gifted musician and songwriter, Thom Swift is able to draw upon a lifetime of experience to offer up lessons on living, loving & laughter. With two solo albums now released, Swift drew on the experience of many years of touring & performing with the veteran jazz-blues band, Hot Toddy.
The New Brunswick born/Halifax based performer took a chance with his music and branched out into areas where he hadn't previously been known. One track off his bold, new album has even been making the rounds of the rock stations (Killer). blue sky day, produced by Charlie Austin (Buck65/Joel Plaskett) is a collection of Swift's sophisticated playing balanced with the earthy intensity of his lyrics. This passion is further enhanced by the group of friends he chose to play with, including starring roles from DRMF favourites Matt Anderson and J.P. Cormier.
The multi-award winner Swift (ECMA, Maple Blues and Galaxie Rising Star awards) has some deep insights to offer from the life he's led; what he's seen, what he's felt and the lessons learned inbetween. With raw emotions and a big sound, Swift reflects on the stories he's carved out of this life, from leaving home, to battling demons, to finding love & hope & the joys of family.
"Swift dives into the project with dark, brooding, pop-inflected tunes that sit atop rich, multi-textured arrangements, elevating each composition beyond anything seen as fleeting", enthused Blues Revue, an American magazine. "I don't know any other way," says Swift. "I write about how the world comes into my world, what I see with my eyes and hear with my ears. There's no smoke and mirrors, it's pretty straight up."
For more visit: