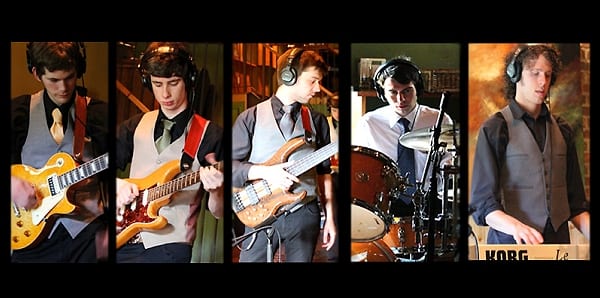 Windsor based band Alice Stops Time make their first appearance at the Deep Roots Music Festival. The band has unique influences from surf and dance music that contributes to their trademark sound. That sound and the bands engaging presence have taken the young group of five from intimate acoustic shows in rural Nova Scotia to larger status stages like Pop Montreal.
Alice Stops Time is quickly breaking into Metro music circles with high energy performances showcasing their own style of rock, surf, blues and dance. The band appeared at Music for Haiti with an acoustic set earlier this year and proved to be a huge hit with the audience. They will also be appearing as guests at Emerging Artists: UNEARTHED in July and have been invited to play at Riverfest as well as showcasing at Contact East in September.
In the meantime Alice Stops Time is working on their live performances and enhancing their song writing craft, discovering new sounds and styles to incorporate into their music. They have been recording some of their latest songs at Codapop Studios and hope to have a new recording to add to their self-titled CD.
"AST is the very epitome of what is all good about the indie scene." – Darrin Harvey – 89.3 K-ROCK
For more visit: