Sponsored by Municipality of the County of Kings (Festival Patron)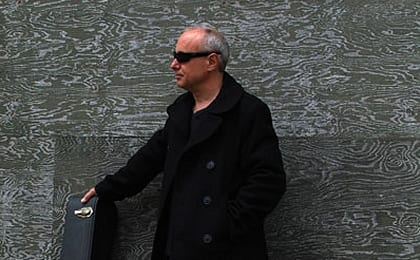 The "little city" of Charlottetown is home to Chas Guay, where for 15 years he's owned and operated the resourceful and legendary indie record store, Back Alley Discs, and has been a bastion and major contributor to the local music scene. Originally from Montreal, Guay has had a long history as a songwriter and musician, getting his start playing with various bands, including the beloved house band "The Dogs". He has performed and recorded with some of the finest artists from the East Coast and beyond, including Mae Moore, Gene MacLellan, Nathan Wiley, Lennie Gallant and Mick Taylor, and has recently released a new CD entitled Little City.
Musically, Guay straddles a number of different genres including folk, alt country, jazz, rock and pop. His voice, as described by The Guardian's Doug Gallant "is as comforting as grandma's chicken soup". Guay was awarded the Male Vocalist of the Year at the 2010 PEI Music Awards and has been recognized for his musical accomplishments by the East Coast Music Association with the presentation of this year's Musician's Achievement Award. Deep Roots welcomes Chas Guay to the Annapolis Valley and we encourage everyone to check out this versatile musician.
For more visit: www.chasguay.ca