Sponsored by Eden Floral Design Studio (Festival Contributor)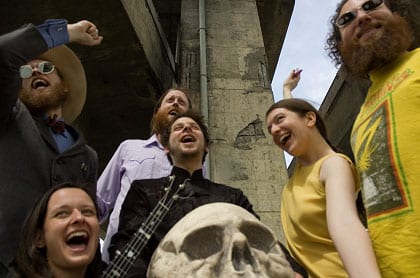 Originating in Montreal, LAKE OF STEW sing all original, all new songs featuring their 'great big vocal harmonies'. Rarely less than a septet, they sometimes grow to a nontet. A blend of folk, jug band, gospel & bluegrass, this group would fit neatly into South Mountain kitchen parties, and most definitely onto the Deep Roots stage.
Their latest, Sweet as Pie, is full of "the best kind of cotton-pickin' anthems, washtub bass, kazoo solos and banjo this side of Deliverance—except it's fun, not terrifying." (Vue Weekly, Edmonton)
The songwriting is fun & lively, combining irresistible harmonies with infectious energy, with lead vocals rotating among the various personnel depending on the song. What they will bring to the Deep Roots Music Festival this year is likely to charm you and have your foot tapping the whole dang time they're on stage.
[youtube]http://www.youtube.com/watch?v=a0yfMQJgdeQ[/youtube]
For more visit:
www.lakeofstew.ca
www.myspace.com/lakeofstew