Sponsored by Subway (Festival Contributor)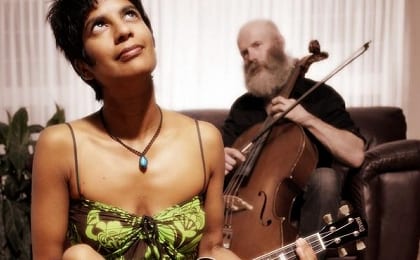 Tim Isaac and Nina Khosla joined musical forces in 2009 to form a duo that is energetic, powerful, and celebratory. Their debut CD Great Ocean garnered nominations from both the East Coast Music Awards and Music New Brunswick for Pop Recording of the Year in 2010.
Khosla's warm, expressive vocals are complimented by Isaac's innovative cello accompaniment, which stretches the instrument into exciting new territory. Flourishes of xylophone, harmonium, flute, and keyboard played by Khosla further enliven the music. The merging of these two talents has resulted in something wonderfully engaging, that is at once sacred and sensual. Their intimate show, uplifting lyrics, diverse instrumentation and distinctively beautiful sound are winning over audiences everywhere they perform, and we're confident that the Annapolis Valley will be no exception!
For more visit: www.lovestorm.ca