Sponsored by the following Friends of the Festival: Country Stoves & Sunrooms Ltd., Vision Care Optometry Centre, The Odd Book, Muddy's Convenience Store, Acton's Grill & Cafe, Herbin Jewellers, The Box of Delights Bookshop, & Valley Stationers Ltd.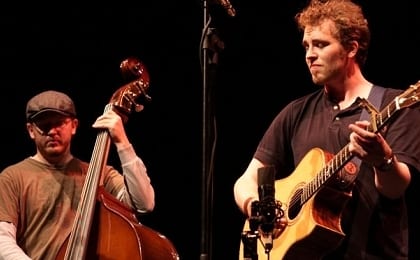 A mainstay of the local music scene in the Annapolis Valley, The Hupman Brothers deliver infectious, virtuosic tunes every time they grace a stage. As Kim O'Brien of the East Coast Blues Society describes it, their music is "steeped in the golden age of Blues… with a hint of swing/ragtime Blues guitar style of the 30s and 40s, (and) their own contemporary sensibilities woven in."
Their win of Blues Recording of the Year at the 2010 East Coast Music Awards, and nominations as Maple Blues New Act of the Year and as Music Nova Scotia's Blues Album/Group Recording of the Year for Countin' Quarters have put the Hupman Brothers at the forefront of a new wave of Blues artists in the East Coast.
Ryan Hupman on lead guitar and vocals, and Scott Hupman on rhythm guitar, bass and back-up vocals have been playing music together since childhood. It shows in the sense of fun they display on stage, and in their obvious compatibility, both as musicians and as performers. The "Hups" are at home at Deep Roots and love to jam with our guests. We are really looking forward to hearing them mix it up with Digging Roots at our Late Night party on Saturday Night!
For more visit: www.hupmanbrothers.com