Sponsored by Gardenhouse B & B (Friends of the Festival)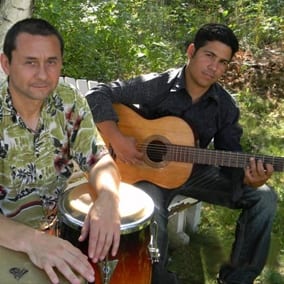 The Lost Tourists' smooth and lively grooves are reminiscent of long, hot Havana nights. Frederic Mujica, a former headliner for top resorts in Cuba, showcases his guitar and vocal talents, while Csaba Kanyasi provides an energetic heartbeat to the music with his percussion playing. Based in the Annapolis Valley, this duo is pleasure to the ears and rapture to the feet, rarely leaving a room without a spirited dance party in their wake.
The Lost Tourists will be joining Gypsophilia and Der Heisser on stage at our late night party on Friday in the MacKeen Room, rounding out the day's Festival performances with an international flavour.