Our 2011 Deep Roots Art Shirt image designed by Holly Carr is here! Holly has gained national acclaim for her unique style of silk painting. In recent years Holly has branched out into performance art, where she paints large works LIVE on stage – she is amazing! Her Deep Roots Art Shirt is equally amazing. Simultaneously simple and intricate – you can almost hear the sweet music in her design.
Stop by the Deep Roots Merchandise booths located in the lobby of Convocation Hall during the Mainstage concerts on Friday and Saturday nights and in the Festival Theatre Lobby during the day time performances on Saturday and Sunday to pick up this limited edition t-shirt!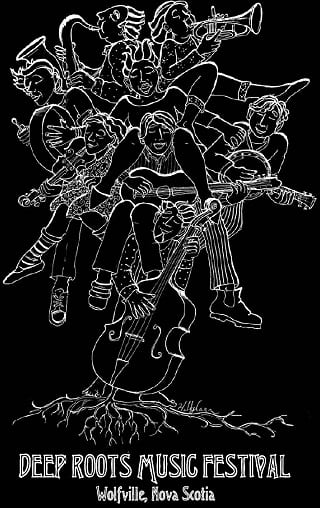 Individual Artists' CDs will also be available at other performance sites.  Take time to visit our concession stands.  The artists have CDs and lots of other ways to access their music, plus many cool gift items of clothing and artistry.
Look for great deals on Deep Roots merchandise from previous years at the concessions stands.  Beet and guitar logo shirts, hats, seat cushions, and fleeces are all on sale.