Sponsored by NSLC (Festival Partner)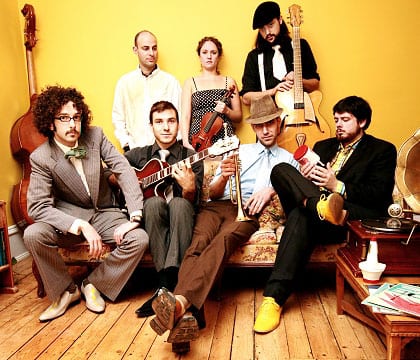 Halifax-based Gypsophilia combines swing-jazz and European gypsy music, incorporating elements of tango, klezmer, funk, classical music, indie, and be-bop, all melded together with their own modern edge. Admired by audiences young and old, the septet's passionate, exciting and sophisticated sound has quickly catapulted them to unprecedented jazz popularity.
Gypsophilia's debut album Minor Hope has been critically well-received, earning East Coast Music Awards and Nova Scotia Music Awards nominations. Their second album, Sa-ba-da-OW!, is a superb demonstration of the band's jazz-era sound, with bizarre, interesting side-jaunts and a fun, light-hearted charm.
Gysophilia has unanimously been dubbed the East Coast's best party band, and you should not leave the Festival without discovering why for yourself!
For more visit: gypsophilia.org