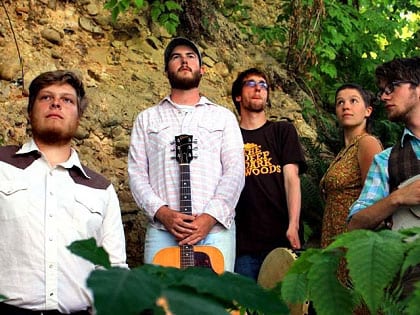 Originally from Victoria, British Columbia, Fish & Bird started as an acoustic duo in 2006, comprised of Taylor Ashton and Adam Iredale-Gray. Their interpretation of 'folk' took them to original songs in odd time signatures and traditional murder ballads with rock beats. On their second album, Left Brain Blues in 2009, friends were enlisted to help fill out the sound on the record and at live shows and some have since become permanent members of the band.
Today, Fish & Bird is a five-piece indie-folk powerhouse group that is always looking to go above and beyond the expectations of the genre. Their latest album, Every Whisper is a Shout Across the Void (2011), features some of their strongest material yet and redefines the Fish & Bird experience yet again.
In 2011, they travelled to Memphis, TN, to perform an official showcase at the International Folk Alliance conference, they performed to a sold-out crowd at CBC that was aired on radio and television nationwide, they toured extensively throughout Canada and picked up a Western Canadian Music Award nomination. This band is quickly gaining well deserved recognition by critics and fans.
For more visit: www.fishandbird.ca