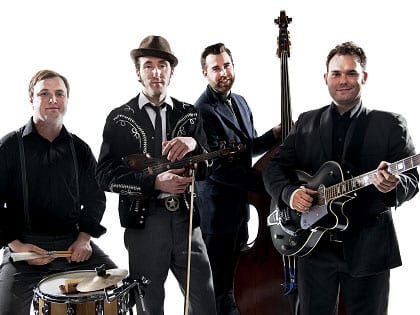 "If ever someone was deserving of the nickname, 'Crazy Legs', it just might be Gordie MacKeeman". Hailing from Prince Edward Island, Gordie MacKeeman and his Rhythm Boys are a high-energy, old-time roots band that will be sure to get your toes tapping.
Tom Power, host of Deep Roots on CBC, called this band his "Best Discovered Band" at the 2012 East Coast Music Awards. Soon after forming and releasing their self-titled debut CD, the band received two Music PEI awards in 2011 for Roots/Traditional Group of the Year and Instrumental Recording of the Year.
They were also nominated for Roots/Traditional Group Recording at the 2011 ECMA's, and were voted the 2011 Music PEI Showcase Artist of the Year. With a balanced mixture of dance style music, bluegrass vocals, and a lively multi-instrumental music backdrop, this four-piece group is not one to be missed.
For more visit: www.gordiemackeeman.com