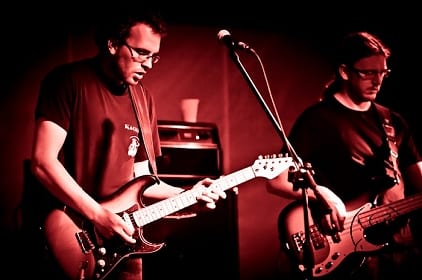 The first thing you notice about the Hupman Brothers is how much they love what they're doing. There's no question that these Nova Scotian brothers, Ryan and Scott Hupman, have a passion for music. Their superb musicianship, as well as their energy and enthusiasm, shines through during their live shows.
Their original music, although steeped in the Blues, does not strictly adhere to the standard Blues formula. Their songs and arrangements are fresh, with a hint of the swing/ragtime Blues guitar style commonly found in the 30s and 40s, woven in with their own contemporary sensibilities.
In four years, they've released four albums, been nominated for multiple awards, and won the 2010 ECMA for Best Blues Album for their 2009 "Countin' Quarters" album. Two songs from their 2010 album, Loveseat Volume 1, were semifinalists in the 2010 International Songwriting Competition.
During their live concerts, Ryan and Scott are joined by band mates Caleb Miles on guitar, Bob Federer on keyboard, Mike Carroll on drums, and Ian Sherwood and Ariana Nasr on saxophones.
For more visit: www.hupmanbrothers.com