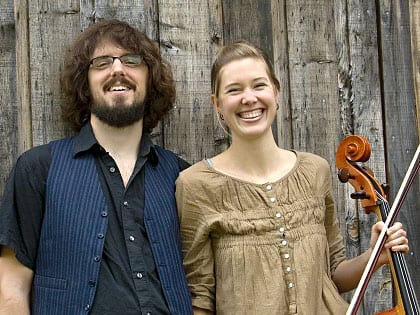 James Hill has earned a reputation as one of the world's foremost players of the often-underestimated ukulele. This young British Columbian virtuoso has the amazing ability of bringing very different musical worlds together, even combining influences of hip-hop into heavily percussive and beat-driven ukulele "sound sculptures".
Worlds collide!
In collaboration with cellist Anne Davison, on their 2009 album, True Love Don't Weep, James' skills as a vocalist and songwriter started to emerge more and it won a Canadian Folk Music Award, so an impressive step forward.
Now, a quantum leap…his most recent album, Man With a Love Song (2011) takes Hill's talents to a whole new level. This seasoned performer, barely into his 30's, brings a powerful new voice to the songwriting world.  His eloquent poetic lyrics are honest and vulnerable and definitely have something to say. Anne Davison will join James Hill once again on stage bringing  an exciting and vibrant show to Wolfville.
For more visit: jameshillmusic.com