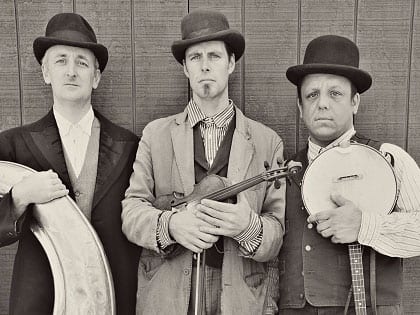 Sheesham Crow and Lotus Wight originally came together, as Teilhard Frost and Sam Allison, for the fiddle band Flapjack, in 1998. During their seven years with this group, they discovered their mutual interest in the folk traditions of North America, particularly the American south.
Through personal instruction, perseverance and osmosis, they learned harmonica, jaw-harp, flatfoot and song and started playing as a duo. Their musical and creative style is a unique blend of folk music and traditional instrumentation.
Dressed in the old style, they play fiddle and banjo as well as an array of other curiosities, including gourd banjos, jaw harps, ham-bone percussion and an invention called the contra-bass harmoniphoneum. This season, Sheesham & Lotus are on tour with a third member, sousaphone player Son Sanderson. Their passion for traditional music and their connection to authenticity are sure to put a smile on your face.
For more visit: sheeshamandlotus.com