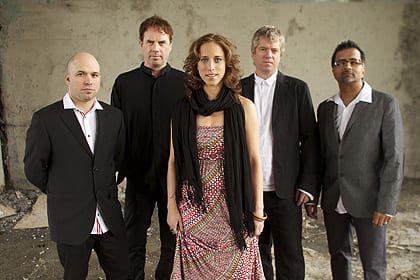 Based out of Toronto, this award-winning musical group draws their creative inspiration from various eclectic sources. Their music reflects their love for pop, rock, modern jazz, and dub music, the worlds of sacred and secular Jewish songs, as well as Classical, Arabic and Indian music.
Their first album, Sunplace, received a Juno-nomination for World Music Album of the Year, then went on to be released as a live recording on CBC Radio 2, earn the #1 spot on the CIUT World Music Chart, and win them the Grand Prize and Lennon Award at the John Lennon Song Writing contest.
Their second album is in the works. The band, comprised of Aaron Lightstone, Aviva Chernick, Chris Gartner, Jeff Wilson and Sundar Viswanathan, is ready to give the Wolfville audience a great demonstration of how electric and compelling their live shows can be.
For more visit:  www.jaffaroad.com