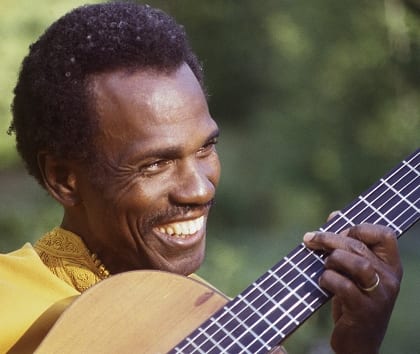 Performer, Composer, Recording Artist, and Teacher
Virtuoso Brazilian guitarist, percussionist, and composer, Celso Machado is returning to Deep Roots! If you have seen him, you know the joy Celso brings to his audiences with his subtle mixture of musical inspiration and irresistible rhythm. He has been performing on concert stages throughout Brazil, Western Europe, Scandinavia, Canada, and the United States over the last 40 years. Considered one of the most versatile and exciting musician/composers of Brazilian music today, his guitar technique is but one of his passions; his gift for making music out of anything and everything around us is his mission in life.
Brazilian music has arisen out of various blends of Classical European, African, Portuguese, and Indigenous influences. There is less division in Brazilian music between classical and jazz, jazz and folk. While Celso's music is rooted in Brazilian rhythmic and melodic styles, it also reflects his incurable fascination with other world music traditions. He finds similarities between the music of southern Italy and northeast Brazil, the Egyptian Maqsoum and the Brazilian Baião rhythm, the Moroccan Gnawa rhythm and Afoxé and Samba. Celso incorporates these influences into his own sound; his own unique contribution to the ongoing evolution of Brazilian music.
Drawing on his thorough classical guitar studies, Celso composes for guitar and ensemble. His remarkably innovative compositions are infused with a rich knowledge of the traditional music of Brazil: samba, chôro, baião, frêvo etc. Published by Editions Henry Lemoine in Paris, his compositions are performed and recorded worldwide.
Deep Roots Music Festival is privileged to have this world-renowned artist, and delightfully engaging person, performing at the 2013 Festival. Celso's experience, musical knowledge, sparkling personality and raw talent will enrich all who have the privilege of hearing, seeing and speaking with him during this year's festival.
For more visit:
http://www.celsomachado.com/