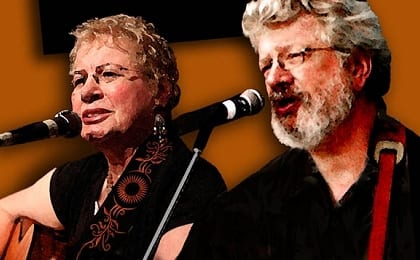 This harmonizing duo has been captivating fans for over a decade and Deep Roots Music Festival is proud to now present them to our audience. Joanne Crabtree and Paul Mills have been making music together as a duo since September 2006. In September 2011, they completed their third duo CD, 'Rise Above'.
Joanne was born on a Yorkshire moor and raised on the ballads of the British Isles. In Toronto, her artistic roots took hold in poetry-filled coffee houses and the after-hours clubs of the 50's and 60's, influenced by the artists of that jazz/folk era. She performed as a solo folksinger and later with a folk-rock band, touring throughout Canada and the British Isles for several years. However, raising a family and developing a career in psychotherapy resulted in Joanne putting aside professional musical pursuits until her recent collaboration with Paul Mills and a return to newly inspired songwriting and performing.
For over 40 years Paul Mills has been a major presence on the Canadian folk music scene. Paul (aka Curly Boy Stubbs) wears many hats: musician, musical arranger, and record producer/engineer. He produced over 150 albums for performers, such as Stan Rogers, Sharon, Lois & Bram, Ron Hynes, Laura Smith's latest, Naming The Twins, and Canadian Astronaut Chris Hadfield (from the International Space Station). Mills was also a senior manager for CBC radio, producing national folk music programs and drama series as well as overseeing the design of CBC's Glenn Gould Studio Theatre in Toronto. He has produced 4 gold and 2 platinum records and has received numerous Juno and East Coast Music nominations and awards. For his significant contributions to the health of Canadian folk music, Paul was chosen by the Ontario Council of Folk Festivals to be honoured with the 2011 Estelle Klein Award.
"As a performing duo, Crabtree & Mills have reached a new peak. The arrangements are more elaborate than ever and the trademark blend of their voices has never sounded richer." Their performances are both simple and elegant: meaningful, heartfelt lyrics, beautiful melodies and amazing instrumentals featuring Paul's phenomenal fingerpicking guitar work.
For more visit:
http://www.joannecrabtree.com/crabtree&mills/