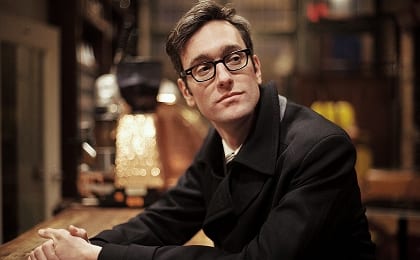 Deep Roots is thrilled to bring David Myles back to this year's festival. If you have seen him you know how his up beat, catchy music results in many smiling faces.
David's new double album, In the Nighttime, is what happens when the two sides of his musical persona – sultry crooner and energetic showman – join forces. Disc One is a full-length album brimming with vintage pop songs and romantic folk ballads. Disc Two is a six song EP of contemporary, beat-laden tracks produced by hip-hop artist Classified. One is the soundtrack for your dinner party, while the other gets the dance party started. Each album establishes a different mood, but David Myles's superior song writing and smooth vocals power both.
David says: "They are both dream records. The full-length represents the ultimate session with the best live players. The EP was the product of an amazing ongoing collaboration, and I couldn't help but include it. This has been a really creative time, and the double album is a complete picture of where I am right now, musically."
Somewhere on the spectrum between James Taylor and Justin Timberlake, David Myles has truly forged his own path by embracing modern and vintage pop, folk and soul music. His accomplishments have not gone unnoticed. In 2013, he co-hosted the East Coast Music Awards show; an honour preceded by multiple wins, including Songwriter of the Year in 2012. David was also in good company at the 2012 SOCAN Awards, where he picked up the Folk/Roots Music prize. With extensive touring experience across Canada and internationally, he has earned a reputation as a great showman. His flawless musicianship and unforgettable stories have made David Myles a favourite with fans everywhere. Don't miss the opportunity to enjoy David Myles' music and charm at this year's Deep Roots.
Photos: Hiep Vu
For more visit:
http://davidmyles.com/