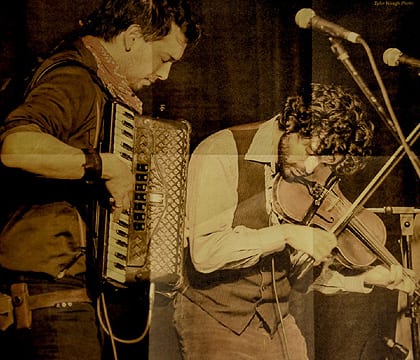 Operatic voice in babelesque language, haunting and resonant violin with a European folk like twist and driving accordion that haunts describes the sound of this group. Initially Jacques Mindreau's solo music project, Beautiful Wild Animals started in November of 2010 with the recording of a self titled EP, written and performed by Jacques, produced by Ravi Persaud. As an experiment, Jacques took the project for an eastern Canada tour the following month. That successful tour became a new journey that continues to grow into mature sounds.
Beautiful Wild Animals' sound originates in imagining animals in their wild nature, striving to tap into the unbiased way animals observe environment, free of preconceptions. Wild ways are innocent and can inspire us to simplicity. Once again, we can experience the stars and hear the sounds that we – the not so wild – have forgotten and all the feelings that can evoke.
Beautiful Wild Animals owes much of its inspiration to the well spring that is "Krasnogorsk," a group in which Jacques collaborated with Corey Allan Hinchey, co-founder of that band. When Jacques took a hiatus from that group, he began exploring collaborations with other musicians. Beautiful Wild Animals has been conducive to many incarnations but remained solo until the end of April 2011, when Carly Martin joined. Martin musically provided harmonies, haunting melodies, chords and driving rhythms. Many have joined for periods of time … incarnations included some gypsy jazz guitar, additional accordion and cajon, as well as the incredibly talented Julia Feltham on cello, and even some unforgettable sounds by Nathan M. Godfrey. The band played at the 2011 "Komasket Music Festival," and the following summer, played at several festivals in eastern Canada, including "Folkfest on the Canal" in Montreal, "Dooryard Arts Festival" NB, "Follyfest" NB, "Evolve" NS, and "White Rabbit Arts Festival."
Jacques Mindreau (violin, guitar, voice) started playing the violin at age 5. In 2008, he started singing with Ten Thousand Creatures and Krasnogorsk … singing a phonetic made up vocalization of sorts, a language that is for the sake of its emotional effect and sonic passion. The operatic style and singing came together naturally during a performance with Krasnogorsk in Halifax a few years ago, and since then, this kind of singing has been an important part of the music and intrinsic to the Beautiful Wild Animal sound.
Ian Griffiths (accordion, voice) a founding member of "The Tequila Mockingbird Orchestra" based in western Canada, joined Jacques in October 2012. A composer as well as a singer songwriter, who has toured in both Europe and North America, Ian's touch on the accordion is truly transporting. Ian and his accordion bring a whole new driving force to the music these two musicians play together.
This past summer, Ian and Jacques have played festivals (such as the "Tiny Lights Festival" in Ymir, BC and "Quadrapalooza" on Quadra Island) throughout western Canada, and they will make their way across the country to bring their exciting sounds to the Deep Roots stage, where they will create musical opportunities for all of us to explore our wild side!
For more visit:
beautifulwildanimals.com