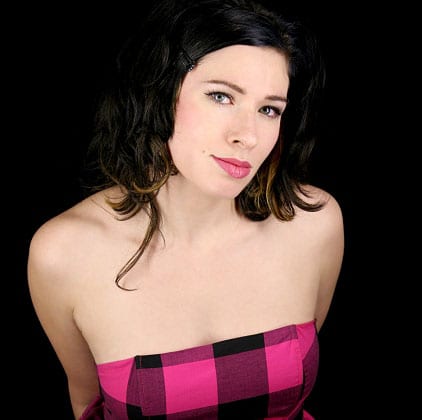 Her playful and witty character, her love of improvising and her willingness to engage fearlessly with the audience has made Coco Love Alcorn a mainstay on the Canadian music scene. She brings energy, class and humour with her wherever she goes, and Deep Roots is thrilled to have her coming back for this year's festival.
Coco Love Alcorn sings joyful soul – a combination of her diverse musical influences including jazz, pop, R&B and folk. Her voice has been described as 'extraordinary' (Vancouver Province), 'beautiful' (Canadian Musician) and 'stunning' (Star Phoenix). Alcorn was destined to be an accomplished artistic individual given the creative family backgrounds coming from both her parents.
A large and loyal fan base has been firmly established during Coco's numerous tours across Canada, and her playing many a music festival (including Lilith Fair) as well as community performances.. The long list of artists she has toured or recorded with include Ani DiFranco, 54.40, Burton Cummings, Chantal Kreviazuk, Jesse Cooke, Steve Poltz, Chin Injeti (Bass is Base), Kinnie Starr and Loudon Wainwright III. She has enjoyed success in the realm of music licensing as well, with her music frequently appearing in television series "The Dead Zone" and "The L Word".
Born in Antigonish, Nova Scotia, raised in Vancouver, BC, and living in Toronto, Ont., Coco represents Canada, coast to coast. Her passion for music has fueled the creation of six albums and two electronica side projects; and her passions reach beyond the realm of song … she also has a clothing line in collaboration with her husband Simon Frada. Coco describes their clothing as up-cycle clothing with Cococentric silkscreen designs.
Her most recent album, PLAY, 2011, is a collection of free spirited songs, performed, recorded & produced by Coco Love Alcorn at The Playroom, shortly after giving birth to daughter, Eloise, in September of 2010. Ian Sherwood joins her on a few tracks, playing beautiful tenor sax and providing some back up vocal, Jackson Myers adds some guitar on one track, and Coco's father, John Alcorn, provided consult on final production.
As well as performing at our 10th anniversary festival, Coco will host Saturday night's Main Stage show.
For more visit:
http://cocolovealcorn.com/