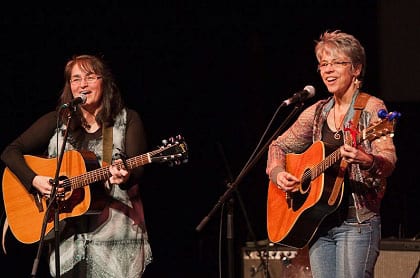 Cuckoo Moon is Kate Adams and Cathy Arsenault. Nova Scotian Valley women by heart and design, both of these talented, fun and inspiring women play vintage Gibson guitars, weaving percussive rhythms with finger picking and imaginative guitar tunings. The creative arrangements and harmonies are the result of their 20 years of shared song writing and performance. In 1996, these two songwriters began a musical journey as a twosome, grew to a quartet and then, in 2000, expanded to seven members; it was then they recorded their CD "Live at Fundy Folk." Now their journey has come full circle, and they are back to the original union of two.
Cathy and Kate have been recognized as two of the valley's finest lyrical songwriters. The duo was two of ten songwriters commissioned by Fundy Folk to write and perform for a Song Writer's Project featured on CBC's Atlantic Airwaves. They performed as part of a Radio Canada national documentary celebrating the 250th anniversary of the settling of Lunenburg, and in a slight twist, Kate's music has been interpreted and performed by Cathy in theatre (Women of Wolfville) productions. Together they have joined many other wordsmiths celebrating song at scores of Annapolis Valley venues. They enjoy every opportunity to share their music … from living rooms, farm markets, community picnics, art festivals, and fundraisers to folk clubs and folk festivals. Kate and Cathy are currently finalizing preparations for their December album release "Love is all we Leave".
Cuckoo Moon will be joined at Deep Roots by accordionist and vocalist, Heather Cameron. Heather is a sought after, talented session musician who has worked with many exceptional performers from Nova Scotia and afar. (Currently working on a project with the Worry Birds in Dave Gunning's Wee House of Music studio in Pictou County) Heather also played bagpipe during the opening ceremonies of the very first Deep Roots Music Festival celebrating the roots of music in Nova Scotia.
Kate and Cathy were festival artists at the very first Deep Roots Festival (Anna Osburn, Deep Roots' progenitor is Kate's sister!). Deep Roots is very happy to be welcoming Kate and Cathy, along with Heather, as performers this year. The harmony and charm they bring, as Cuckoo Moon, will delight the Deep Roots audience and enrich this year's 10th Anniversary festival.
For more visit:
http://cuckoomoon.ca/