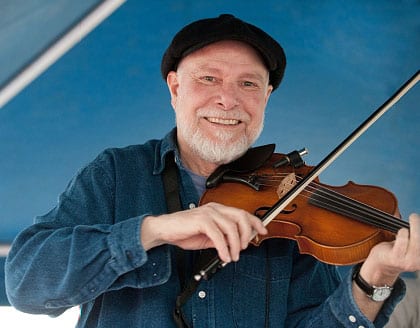 Playing a fiddle for a living for nearly forty years is even more fun than it would seem. The fiddle still calls from its place on the wall every single day. It has a golden glow that promises adventure, and delivers, more and more with each passing year.
In other words, this year's Deep Roots Music Festival audience is in for a remarkable treat when David Greely and his toe-stomping perfection take to the stage. David has mastered fiddling as only a true musical genius can. In solo acoustic performance, he sounds like two or three fiddles, weaving accompaniment to his vocals as if it's someone else singing.
David Greely took up the fiddle at 17, after hearing Richard Greene play, using an amp with a wa-wa pedal, in concert at the Warehouse in New Orleans, when Seatrain opened for Black Sabbath. The next day, David bought a fiddle at a Baton Rouge pawnshop and, as they say, the rest is history. He found the fiddle to be the easiest instrument he'd ever tried to play and he went from "Iron Man" to "Sally Goodin'" in less than 24 hours. Within weeks of taking up the fiddle, he'd been invited to join his first band, Cornbread, playing hardcore bluegrass and western swing between Colorado and New Orleans.
David was born in Baton Rouge of Cajun and Irish ancestry, and learned Cajun music on dance hall stages throughout South Louisiana, in the archives of Cajun and Creole music at the University of Louisiana in Lafayette, and from his apprenticeship to Cajun fiddle master and National Heritage Fellow Dewey Balfa. As a founding member of Steve Riley and the Mamou Playboys, David toured Folk Festivals worldwide for 23 years, and was nominated for four Grammy Awards. He has received the Louisiana Artist Fellowship Award for Folklife Performance, and is an adjunct instructor of Cajun fiddle at the University of Louisiana.
Don't miss being part of welcoming him to a Maritime concert-party in true Deep Roots fashion!
For more visit:
http://davidgreely.com/