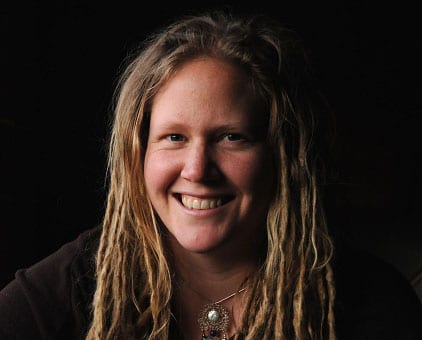 Last time she was with us at Deep Roots, Heather Kelday was promoting her first solo album – "The Hitchin' Post". Now, she is working on her second album , "The Golden Mile", due out in January 2014. In Heather's own words, "This is a folk record for folks to listen and sing along to," but that's not too surprising since her shows tend to be highly interactive … singing and participating are part of the fun.
Considered a blend of folk-roots, blues and bluegrass, Heather's unique compositions are written in the creative spirit of indie-pop, while her songs are rooted in folk melodies. Her strong voice, multi-instrumental talents (including banjo, electric guitar, acoustic guitar, mandolin and piano), and lyrical passion for the natural world carve a unique place for her in Canada's music scene.
Heather has sustained a professional solo career with benchmarks that include a 2008 East Coast Music Association Showcase as a CBC Galaxie Rising Star, her first solo release, The Hitchin' Post (2009), with sold out release concerts, in Wolfville and Halifax, and two well attended tours in Ontario and Quebec (both tours in 2009), being a featured artist at the Lunenburg Folk Harbour Festival (summer 2009), as well as live performances on CBC's Canada Live, Atlantic Canada's All the Best and Atlantic Airwaves.
Heather has co-billed and opened for artists such as Annabelle Chvostek, Craig Cardiff, Kim Barlow, Old Man Leudecke, David Myles, Mark Reeves, Mr. Something Something, Burt Neilson Band, Ember Swift, Brooke Miller and Luther Wright and the Wrongs. She has also been featured in several festival song writing circles over the years, and was part of a feature performance for the United Seed Savers Cooperative with guest Bruce Cockburn in February 2008.
Heather Kelday is a Valley treasure. She is happy to be raising her family here in the valley, as well as finding time to write her songs and play her music, and we are happy and proud to be presenting her at Deep Roots Music Festival 2013.
For More Visit:
http://www.heatherkelday.com/