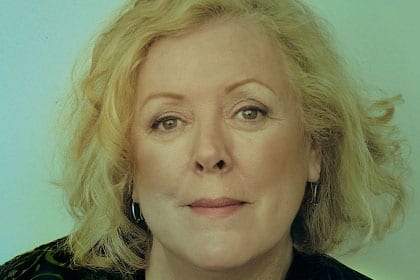 Laura Smith is spending this summer of 2013 attending music festivals and promoting her new album, Everything is Moving, and Deep Roots is honoured that this award-winning Canadian singer songwriter has agreed to, once again, be part of the Deep Roots Music Festival.
Born and raised in London, Ontario, Laura now calls Nova Scotia home. She grew up loving horses, theatre and poetry. As a teenager, she found comfort in the voices of Janis Joplin, Joni Mitchell, Ray Charles and Paul Simon, to name a few. She began to play music at age 19, first teaching herself piano chords, then guitar. Her public debut happened at Smale's Pace, the coffee house where she worked as a waitress – she was invited on stage to sing a song with the headlining act. Around that time, she was writing poetry, being encouraged to do by Governor General Award-winning poet, Margaret Avison, then writer-in-residence at the University of Western Ontario, and someone she met through a mutual friend.
The next leg of her journey took her to Toronto in 1972, and from there, she made her definitive move to Cape Breton in 1984. Cape Breton's rugged landscape, shifting ocean, moon-filled nights and welcoming community convinced her that she had come home. She blossomed in the nurturing atmosphere that saw her playing her music at ceilidhs, and on stage with a local theatre group. She moved to Halifax four years later, and then in 1989, thanks to support from CBC, recorded her first self-titled album. Baby career steps turned to self-confident strides when she recorded B'tween the Earth and My Soul in 1995 at the St. Mary's University Art Gallery. The stunning result ignited a blaze of radio and television appearances, a tour and a plethora of special performances.
In 1996, she won two East Coast Music Awards (Female Artist, Album of the Year) and two Juno nominations (for Best New Solo Artist and Best Roots and Traditional Album). In 1997, she won a Gemini Award for Best Performance in a Performing Arts Program or Series. Peter Gzowski, a CBC personality who was receiving a Governor's General Award around that time, requested she perform "My Bonny" at the prestigious Ottawa ceremony. Her heartbreaking adaptation of the Scottish chestnut on B'tween the Earth and My Soul had haunted the broadcast host since he first heard it. Of the evening, she recalls, "It will always stand as one of the great honours of my career." She went on to record "My Bonny" with The Chieftains on their "Fire in the Kitchen" album and she was awarded Song of the Decade by Live Ireland for that rendition. She also released her third album, It's A Personal Thing, that year to six ECMA nominations.
In 2003, Laura received an Honorary Doctorate in Humanities from Mount Saint Vincent University on the strength of her songwriting. This was followed with an opportunity to perform the role of "Marilla" in Anne and Gilbert, the Musical during the summers of 2005 and 2006. During this time, she was also studying Music Therapy at Acadia University and she also graced the stage of the Deep Roots Music Festival.
Laura's life took a dramatic turn as a result of a series of debilitating accidents, and the chronic pain caused by those accidents. She disappeared from the music scene for some years, but, in 2010, after overcoming a dependency on prescription drugs, using a program of non-narcotic pain treatment therapies, she was back and concentrating on her return to the stage. Her recovery story was featured in a radio documentary called "The Blues and I: The Story of Laura Smith" which aired on CBC Radio One's, "The Current" in February 2011.
Laura first recording in sixteen years, Everything Is Moving, features a mix of original and Celtic traditional songs. Produced by Laura and Paul Mills (also coming to the Festival this year, check out http://www.joannecrabtree.com/crabtree&mills/!), the album was released through Borealis Records (http://borealisrecords.com/) this past April.
We look forward to welcoming Laura … to hearing her new songs, being swept up by her strong melodious voice, and appreciating her direct and honest presence at our 10th anniversary celebration.
Laura will be on our Main Stage on Friday night, September 27th.
For more visit:
http://www.laurasmith.ca/