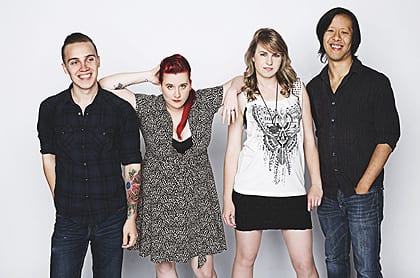 The 24th Street Wailers are a band that breaks all the rules. Lindsay Beaver is a fire-haired gut bucket singer/drummer who fronts a band who, at first glance, are anything but the norm. Emily Burgess, lead guitar, may appear to be shy however her playing is both thoughtful and explosive. Saxophonist Jon Wong is a second generation Chinese Canadian who is a modern day version of a 50s Rock n' Roller. Rounding out the group is Lindsay's husband Michael Archer, a country boy at heart who turns his Harmony bass into a sound so big you'll feel it in your soul. They truly are one of the most original and exciting bands on the scene today.
The quartet quickly developed their tight grooves, unadulterated live show, and original repertoire in the three years they have been together. With their 2010 debut album Dirty Little Young'uns reaching #3 (CAN) and #8 (US) on the Roots Music Report and a smashing sophomore CD in 2012 titled Unshakeable, the band is gaining widespread national and international radio play.
"There are bands out there with 20 years experience on them that could not, and have not, produced an album this real and technically proficient. And the music sounds killer too!" – Barry Kerzner (American Blues Scene)
The 24th Street Wailers have quickly made a name for themselves in the Canadian music scene and beyond. In August 2011, they were the only non-Quebec band to win both the Releve en Blues and the Bourse Air Transat/Blues Sur Seine competitions at Festiblues International De Montreal, which sent them to France to perform at The Blues Sur Seine Festival. In early 2012 they were nominated for New Artist of the Year at The Maple Blues Awards, and Blues Group/Duo of the Year at the Sirius XM Indie Awards. In February 2012, they were semi-finalists in the International Blues Challenge in Memphis, Tennessee where they performed for industry professionals and blues enthusiasts from around the world, further cementing their place among their musical cohorts. The 24th Street Wailers first coast-to-coast tour, throughout the summer of 2012, saw them perform in 29 cities in Canada and the U.S!
The 24th Street Wailers eat, sleep and breathe for their love of music, and Deep Roots eagerly anticipates the youthful, fresh energy that this band is bringing to the 2013 Festival. The 24th Street Wailers will be performing at Saturday's 'Blues at the Barn' along with Ray Bonneville (at the Old Orchard Inn's Heritage Barn).
For more visit:
http://the24thstreetwailers.com/
https://www.facebook.com/the24thstreetwailers/