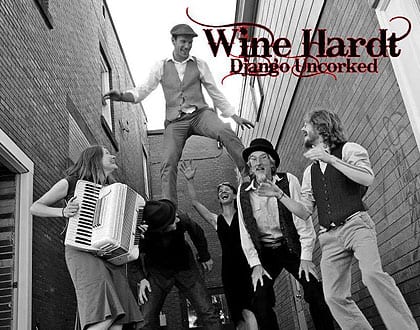 A new acoustic-jazz project based out of Wolfville brings together five musicians with a shared passion for fine red wine and gypsy jazz. Together they create an infectious groove of upbeat tunes based on the melodies of the inimitable Django Reinhardt.
The group consists of Nicholas Tipney and Jesse Potter on guitars, Amy Lounder on violin, Cailun Campbell on upright bass and Bruno Allard on drums.
Stirred into the mix is a hearty blend of originals and covers of classics such as "The Muppets Theme" and "Caravan."
Wine Hardt: Django Uncorked will perform at the Wolfville Farmer's Market, as well as a couple more spots during the Festival weekend. So grab your beret and a baguette and come experience the music of pre-war Paris!