Sat 2pm at Whittle; Sat 10:30pm at Paddy's
Sponsored by: Friends of the Festival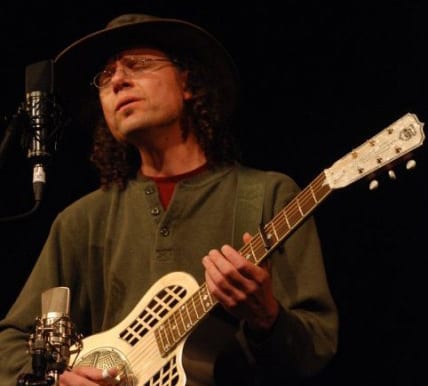 Since moving to the Annapolis Valley in 2005, Caleb Miles has established himself on the local scene as a formidable guitarist, singer, songwriter, and multi-instrumentalist. His stylistic diversity is exhibited on three self-produced CDs that blend blues, folk, country, roots-rock and pop.

Originally from Albuquerque, New Mexico, Caleb cut his musical teeth under the blazing sun of New Mexico's high desert playing with various bands and then moved to Portland, Oregon, where he played in a string of projects, playing and recording.
When he moved to Nova Scotia in 2005, Caleb expected to surrender to rural solitude and early retirement from the stage, but the rich and rocking music community pulled him into yet more adventures.   He's played with The Hupman Brothers Band as lead guitarist, been featured on CBC Atlantic Airwaves and opened for artists such as Thom Swift, Harry Manx, Stephen Fearing, Erin Costelo, and Steve Marriner.   We're glad Caleb hasn't retired and that he's going to be with us at Deep Roots this year.
For more visit: www.calebmiles.net