Fri 7pm at FT; Fri 10:30pm at Paddy's; Sat 11:15am at Whittle; Sun 10am at FT | Sponsored by: Herbin Jewellers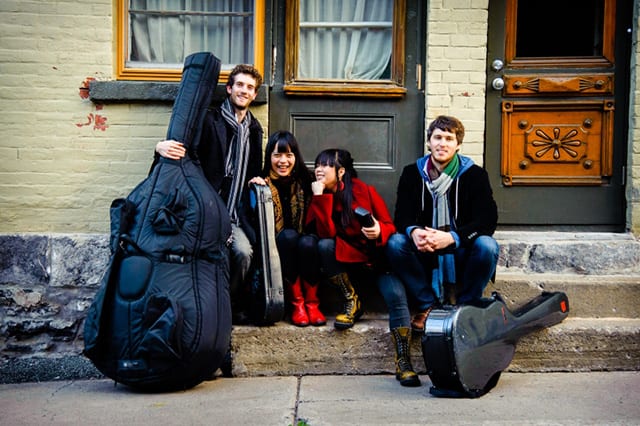 The Bombadils are a folk ensemble comprised of four musicians from across Canada who began their journey together while at McGill University, Montreal, QC., motivated by a shared curiosity in Celtic and bluegrass traditions.
Fiddler Sarah Frank, guitarist Luke Fraser, bassist Alan Mackie and flautist Anh Phung, have been taking their music and high spirits to concert halls and Irish pubs of the world since 2009, embracing and reflecting diverse influences in all their compositions and improvisations.
"Fill Your Boots!" was their debut album in 2012 and in 2014, came "Grassy Roads, Wandering Feet," both albums featuring original compositions and standards. These young musicians are constantly evolving, and their original sound will be a welcome addition to the Deep Roots Festival.
The Bombadils – Hint
For more visit: www.thebombadils.com