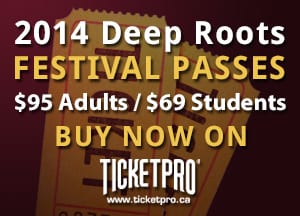 Although the deadline for early bird passes has now passed, Full Festival Passes are still a great bargain at $95 Adult, $69 Student, service and tax included. The Festival Pass grants admission to all ticketed events Friday, Saturday & Sunday at Festival Theatre and at the Al Whittle Theatre. The pass does not include the Late Night Shows at the Old Orchard Inn.
Only Festival Pass holders have access to the Festival Club and this year, not only is that a place to get refreshments throughout the weekend, it's also a place to sit in on some spontaneous serious jamming by festival musicians.
Deep Roots is really pleased with the number of early bird passes sold this year, Obviously, people are making sure they get seats this year! It bears repeating … last year, shows sold out.