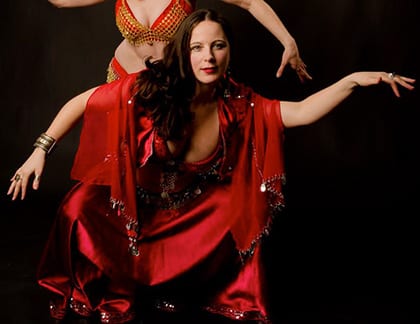 Angie Oriana Jenkins has taught belly dance for many years and has performed in British Columbia, Mexico, New Brunswick, and Nova Scotia. She fell in love with 'dance du ventre' when she watched a dancer flip a coin down her belly using her ab muscles … a feat Oriana still aspires to! In her teens, when she had no luck finding belly dance teachers in NB, she studied yoga instead. By the time she found her first belly dance teacher, yoga had primed her in the most perfect of ways!

Oriana has been blessed to dance with excellent teachers including Farideh & Ishra; she has taken numerous workshops, including ones with Rachel Brice, Mira Betz, and Kami Liddle. Some of her greatest teachings have come from Mohammed Sadek, a master Egyptian percussionist.
In her performing life, she has worked with several ensembles and DJ's, including Cheb i Sabbah, Jef Stott, Adam Shaikh, Delhi 2 Dublin, Ganga Giri, Jaffa Road, Kirtan Soul Revival; and she once opened for Modest Mouse!
She is currently studying Flamenco and has dabbled in folk dance, Afro-Brazilian dance, African dance, and Salsa. When she is not dancing, she is in the garden or kitchen making herbal body care products for her business: Sister Lotus:
For more visit: www.sisterlotus.com