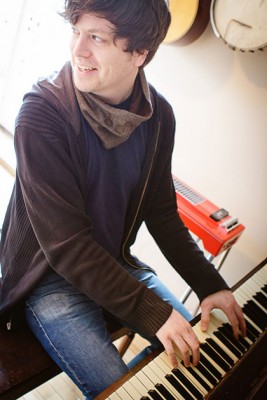 Dan MacCormack is a Halifax-based songwriter/ multi-instrumentalist performing in a variety of contexts on pedal steel, guitar, banjo, mandolin, and fiddle. As a songwriter Dan has performed with Grassmarket, releasing three award-nominated albums. In his multi-instrumentalist/producer persona, he has performed on film and television scores and produced music for various other artists in addition to his own.

Dan's debut solo album, Symphony of Ghosts, 2014, traces and strengthens the lines connecting music and literature. Inspired by the writing of David Adams Richards, each of the ten songs on the album focuses on a different Richards novel, incorporating symphonic instruments with folk and Americana music. This album is a rich, layered musical homage to one of the greatest writers to come from Canada.
"I wanted to explore my deep connection to Richards' novels. I recognize the careworn characters he creates, so much like the people I grew up around. I know their lives and their struggles, their difficulty in keeping pace with the changes wrought by progress and industrialization on their small communities and big families.
I recognize these characters' hope, their happiness, their love of family and their reliance on each other, their perseverance and ability to thrive despite the challenges they face."
Deep Root Music Festival audiences can look forward to some wonderful stories when Dan MacCormack entertains at this year's festival.
Visit: www.danmaccormack.com