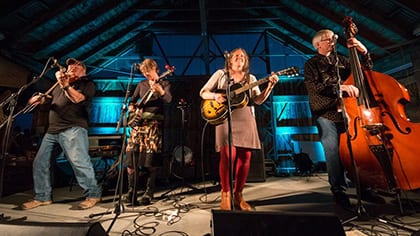 Ida Red plays a rowdy fun mix of old-time fiddle and banjo tunes, mixed in with original songs created by the brilliant and powerful team of Heather Kelday and Kim Barlow. They also play campfire songs you'll be glad to sing along to and jump around the old barn to … in fact, you might not have any choice!

Dennis Robinson gets all fired up on fiddle and mandolin and Peter Williams holds steady on stand-up bass to keep the apples from spilling out of the barrel.
Everybody sings! Lots of great harmonies in this band, and lots of groove and good times.