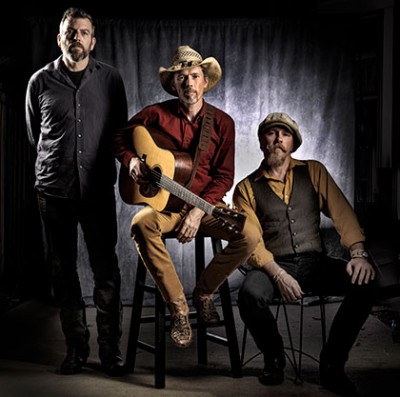 Jonathan Byrd, seventh generation Carolinian, has journeyed far and wide in his musical career (and dare we say his life experiences) to land where his career stands today. He has constantly evolved in new musical directions and each incarnation has proven to be masterful. His influences include but are not limited to his dad's bluegrass collection, especially Flatt and Scruggs, four years in the high school jazz big band program, rock and roll … well, really, you have to check his website bio for the nitty-gritty.

At 7, he sang a solo of "Amazing Grace," in the church where his father was preacher. And he was learning piano. At 8, he had learned "that cool acoustic guitar solo in A minor" on the album, The Wall. Once he got his own guitar, he had a place for all his teen angst. Music and early enlistment in the navy got him through and "out into the real world, where I finally got my ass kicked."
He played in a heavy rock bands. When that "wasn't working out," he started playing the acoustic more and met a lot of other acoustic musicians. At an old-time fiddler's convention in Buena Vista, VA, he got a taste of something that "changed my music".
He started touring as a solo performer full-time in 2000, and in 2002, went to the Kerrville Folk Festival in Texas, "an amazing and inspiring experience." At the 2003 festival, he won the New Folk Competition. The evolution was continuing.
In 2004, he and the group Dromedary recorded an album together called "The Sea and the Sky," bringing beautiful instruments from all over the world into his sound and song writing. The next album was a rock 'n' roll album called "This Is The New That."
He collaborated with Diana Jones, from Nashville, on the recording of Radio Soul. They went to a barn, sat down in two chairs, and recorded the whole album in 7 hours.
"The Law and the Lonesome" is what might have happened if Townes Van Zandt had made a record with Doc Watson. Tamara Kater of Canada's venerable folk mag Penguin Eggs called "The Law and the Lonesome" her "album of the decade."
"Cackalack" in 2011, was recorded, with a handful of the best musicians, in Toronto, engineered by Ken Whitely, in his converted garage. "Cackalack" went to #1 on Roots Music Reports folk radio chart.
Deep Roots Music Festival attendees will not want to miss this dynamic performer.
Visit: www.jonathanbyrd.com