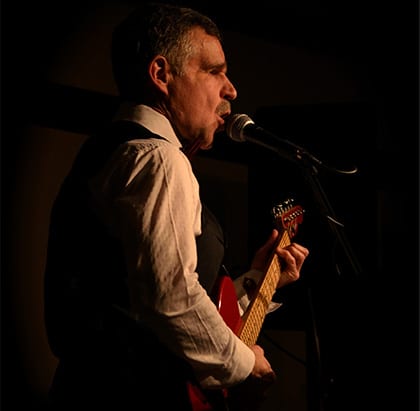 Terry Kelly's enthusiasm for life and sheer determination has gained him international recognition as an accomplished athlete, an award-winning singer, songwriter, and entertainer, a professional speaker, and a lover of life.
As a musician, this Newfoundland native has released seven full-length recordings, resulting in seven East Coast Music Awards and nominations for four Canadian Country Music Awards and a JUNO. Terry has shared the stage with Symphony Orchestras, and has performed his original music in Europe, Australia, New Zealand, and for the troops in Afghanistan. He is most recognized for his inspirational song, "A Pittance of Time".

In the days leading up to the Festival, Terry will bring his "We Can Do Anything" presentation to various schools in the Annapolis Valley. "We Can Do Anything" is designed to inspire students to raise the bar on all that comes easily as well as all that is difficult; reinforcing and helping them realize it is OK to ask for help when they're willing to help themselves, to learn to "believe you can achieve" with practice/repetition, to become excited about opportunities, and to choose action to design their future.
"We Can Do Anything" is about individual triumphs, overcoming real or imagined disabilities, sharing, caring and developing respect for oneself and others. Through stories, humour, songs, and a relaxed energetic interaction with students, Terry Kelly proves that a belief in oneself is the key that will open doors to a rewarding and successful today and tomorrow.
Described by one student as "totally awesome!" Terry Kelly grabs the attention from the first moment to the last song. Students of all ages immediately become engaged and involved with his high energy and positive message. Terry's down-to-earth approach and genuine interest in the students shine throughout the presentation.
"We Can Do Anything" is a presentation full of hope and optimism. It's entertaining and inspiring, and it's guaranteed to energize students, teachers, visitors … the whole school. Terry is a recipient of the King Clancy Award, and Honorary Doctorates in Civil Laws and in Fine Arts. He has received the Canadian Country Music Association's Humanitarian Award and is a member of the Order of Canada.
In the athletic field, Terry has distinguished himself as the third blind person in the world to run the mile in under five minutes.
Deep Roots Music Festival is honoured to bring Terry to the valley and our stages this year.
For more visit: terry-kelly.com