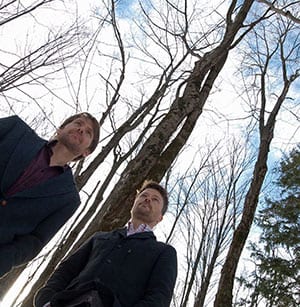 These two accomplished multi-instrumentalists share a passion for music rooted in Scandinavian and Celtic traditions.  They play at times with the raw energy of dance musicians, and at others, with the subtlety of a chamber ensemble, and rich vocal harmonies are thrown into the mix.  Nyckelharpa (swedish keyed fiddle), wooden flute, piano and button accordions, fiddle, piano, and låtmandola are all featured in their colorful musical palette.  These two musicians from the Eastern Townships have vast teaching experience and can be found leading workshops and master classes on festival stages and at music camps. Their debut CD, First Frost, with the collaboration of Yann Falquet was released in October 2015.
Alex Kehler's McGill music training as a baroque violinist makes him a versatile traditional fiddle player. He plays with Soulwood, Les Siffleurs de Nuits, La Nef, Skye Consort, and La Mandragore.
Over the past 5 years his passion for Scandinavian music has made him a rare bird in North America, playing the Swedish nyckelharpa. He has had the opportunity to study with two renowned Swedish teachers, Torbjörn Näsböm and David Eriksson. He also plays låtmandola, the Swedish equivalent to the Irish bouzouki.
Nicholas Williams is a  member of the bands Crowfoot and Genticorum, and has been performing and playing for Contra, Québécois, English, and Scottish dances for 15 years.   In 2010, he travelled to Göteberg, Sweden to study with the pioneering flute player Jonas Simonson, and has since relished every opportunity to play polskas on this side of the Atlantic!  He lives in Waterville, Québec.
For more visit: kehler-williams.bandcamp.com