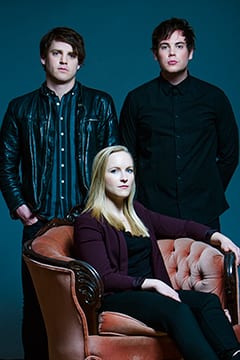 Stellar songs, dynamic vocals, and superior musicianship marks the emergence of Port Cities onto the Canadian music scene. An exciting new group from the east coast, Port Cities brings together the award winning talents of Carleton Stone, Breagh Mackinnon, and Dylan Guthro.
The trio began writing together when they met at the Gordie Sampson Songcamp in Ingonish, Cape Breton. The result was a strong friendship and ongoing collaboration as they each released and toured solo albums.
Port Cities has now surfaced as the result of a genuine connection and a shared belief that the music they make together has endless possibilities. The outcome is a rootsy pop sound with an emphasis on powerful harmonies, outstanding songs, and an engaging camaraderie onstage and off.
For more visit: portcities.ca