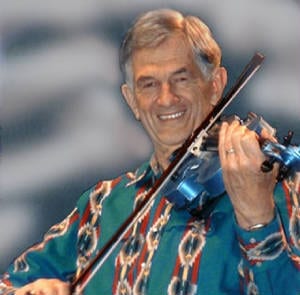 The Valley Arts Award is presented each year at the Deep Roots Music Festival to honour someone who lives (or has lived) in this area, and has made significant long-term contributions to the Arts in the Annapolis Valley.
We are happy to announce that Keith Ross is this year's Valley Arts Award recipient.  
To read all about Keith's involvement and contributions to the arts … just one click and you're there.
Keith Ross, a well-known Annapolis Valley fiddler and former instrument retailer, is the recipient of the 2016 Valley Arts Award.
Keith was inducted into the Texas Western Swing Music Hall of Fame in the United States in 2012, and inducted into the Nova Scotia Country Music Hall of Fame in 2007. A Hants County native, Keith is best known as a fiddler though he also plays guitar, mandolin, and bass guitar. For over 60 years, he's been a composer, instructor, emcee, and contest judge.
Keith played in his first old-time dance band in Windsor in 1952. He continued playing with various bands until 1982, when he got tired of the bar scene and began concentrating on the fiddle. Keith recorded his first CD with fiddler friends, Bill Guest and Ivan Hicks, in 1982. In 1995, he recorded in Nashville with two of the world's great fiddlers, Buddy Spicher and Vassar Clements, who made guest appearances on Keith's CD Swingin' Fiddles.
For over 15 years, Keith has been teaching fiddle, guitar, mandolin, bass, and rhythm piano. He also plays concerts and will be performing in a tribute to Merle Haggard at the Hants County Exhibition on September 24, 2016.   Twice a month, he plays with the Kings Fiddlers and you can hear him each week on the Atlantic Barn Dance Fiddling show on 97.5 CIOE-FM.
Keith will receive the Deep Roots Valley Arts Award during our final concert on Sunday, September 25 at Festival Theatre. He promises to bring his fiddle along.