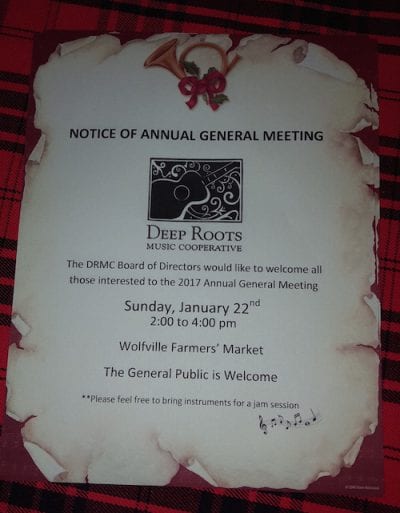 Mark your calendars now so you don't forget …  our AGM and jam social will come up fast after Xmas – Sunday, January 22, 2017 – in the Wolfville Farmers' Market Community Room.
The meeting is scheduled for 2pm to 4pm and after that … well, of course, it's music and socializing.  Bring an instrument if you want.  Join in on the jamming or just bring your voice and connect with fellow Deep Rooters (including all wannabe Deep Rooters)!!
ANNUAL GENERAL MEETING AGENDA: 
Approval of the agenda
Approval of the Minutes from the 2016 AGM
President's Report
Financial Report
Festival Report
Nomination Report and Election of the Board of Directors
Other business
Motion to Adjourn
We encourage anyone interested in the Deep Roots Music Cooperative to come and participate.   This is always worth repeating … your involvement contributes to the health and success of this great grass roots organization, and we're a pretty friendly group!
Registered voting members vote on proposals or motions but anyone can contribute to the discussion.   Becoming a member is pretty easy … check the Membership page for specifics.
Questions about the AGM?  Interested in joining the Board of Directors?               Contact Peter Mowat at