Sponsored by: Town of Wolfville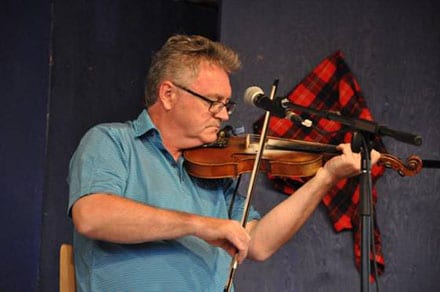 Howie MacDonald is a master celtic fiddler, producer, and comedian from Westmount, Cape Breton County. He has twelve solo albums and a DVD to his credit and spent many years touring with the Rankin Family. Howie remains in high demand on the Cape Breton square-dance circuit. Mary Beth Carty from Antigonish is a guitarist, accordionist, and dancer known for her memorable voice.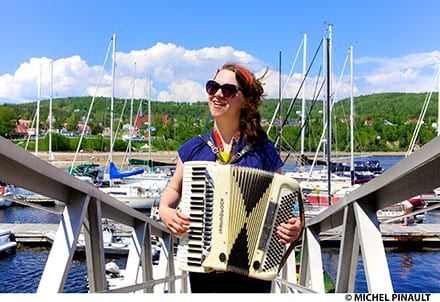 Howie's musical heritage goes back many generations. His mother Anne and uncles Donnie and Francis were well-known dance fiddlers. At the age of 14, he composed his first tunes and began performing. 1985's, Howie MacDonald and His Cape Breton Fiddle features early instrumental compositions. Also a comedic writer, his show credits include Island Mania, Howie's Celtic Brew, and Cape Breton Summertime Revue. Two comedy-music albums, The Dance Last Night and its' sequal, Y2Keilidh, are treasured classics. Howie's musical heros are Winston Scotty Fitzgerald, Jerry Holland, and Buddy MacMaster.
Mary Beth Carty comes from a musical family known as the MacDonald 11's of Lanark, Antigonish County. This year she released a debut solo album, Les biens-nommés, featuring gypsy-esque original songs played on accordion. Her first band, The Johnson Sisters, were a popular café and pub act in Halifax during the early 2000's, and her duo Bette & Wallet had national and international touring success with two acclaimed albums.
Mary Beth's all-time favorite album happens to be Howie's Live at West Mabou and she is delighted to be accompanying him at Deep Roots! Best friends and musical collaborators since 2015, Howie and Mary Beth recorded a track at CBU studio which can be found on Youtube.
Deep Roots are excited to have these two take many us onto the dance floor at this year's festival.
For more visit: