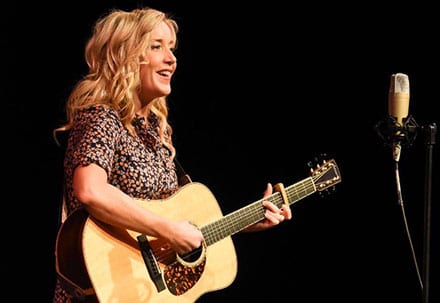 It comes as no surprise Jill was born and raised in Sydney, Cape Breton. Her infectious smile and sunny disposition leaves no doubt that she is a true Caper. She relocated to the valley, right here in Wolfville, to inspire young minds as a teacher. While she has always had a profound love of music, it was only 5 years ago that she picked up a guitar and taught herself how to play. Her father's playing guitar during her childhood largely influenced and fostered a true love of music early on.
Jill's musical endeavors began here in the Annapolis Valley and her very first time singing in public was at Paddy's Pub open mic 3 years ago. She hasn't looked back. It wasn't long before she was drawing crowds with a desire to dance. She has graced the stage of the Al Whittle theatre, performing at Night Kitchen on multiple occasions. Recently, she has taken on the challenge of writing and performing her own songs, which has been well received. Her many musical influences are evident when you hear her sing, but, in particular, include Winnipeg's Romi Mayes and the Annapolis Valley's own Hupman Brothers.
The Jill Boudreau Band, formed just over a year ago, quickly skyrocketed to one of the most popular and sought after bands in the Annapolis Valley. Playing at numerous pubs, festivals and special events, the band's love of soul, funk and rock, is soon evident. Their inspiration comes from Tedeschi Trucks Band, Stevie Wonder, Etta James and a variety of other legends. The band is comprised of Jason Burns, (guitar) who has been on the valley music scene for over a decade, having shared the stage with many big name acts; Scotty Marsters, (guitar) highly skilled guitar player who has been playing in the local music circuit for the past 5 years, both as lead guitar and vocalist; Kory Bayer (bass) has been playing electric bass and acoustic upright bass for the past 30 years; Graham Howes (keyboard) has been performing for over 25 years as a full time musician/vocalist. He's been featured on many TV and radio shows; Aaron Knock (drums) studied classical percussion at Acadia's School of Music.
We are excited to have Jill and her band grace the Deep Roots stages this year.
For more visit: