Sponsored by: K-Rock 89.3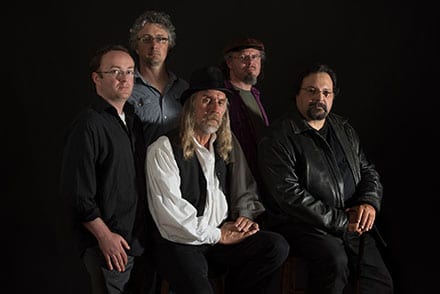 Kickin' Mule was formed in the Annapolis Valley in 2010 and has enjoyed a strong presence in the Valley music scene, regularly performing at all the local haunts and summer festivals. The band recently underwent a significant personnel change and now features Caleb Miles (lead guitar) and Noah Scanlan (bass) joining core members Brian Chipman (vocals and harmonica), Bob Federer (keyboards) and Mike Carroll (drums). Individually and collectively their experience is vast and accomplished: Caleb, Mike, and Bob were members of the Hupman Brothers Band (ECMA Award for Best Blues Album, 2009); Mike Carroll has played with Matt Andersen, Myles Goodwin, Dan Doiron, and Pogey; Bob Federer and Noah Scanlan both feature in various local groups; and Caleb Miles can be seen playing solo, up and down the province, as well as having produced cds for Dayliner, Jamie Junger, Mark Bezanson, and his own four solo albums.
Kickin' Mule lovingly selects its eclectic repertoire from the deep, wide current of Blues, adapting songs from Robert Johnson and Elmore James, Slim Harpo, Otis Rush, and Muddy Waters, and venturing into the Psychedelic Sixties blues-rock of Steppenwolf, Them, Quicksilver Messenger Service and Savoy Brown. Kickin' Mule is a full-tilt electric dance band that injects the audience with the same energy they feel performing this great music, keeping you shakin' your bones all night long. Kickin' Mule has two cds behind them and a third in the planning stages. Stay tuned!
Deep Roots looks forward to a whole lot of good "shakin' your bones" at this year's festival.