Sponsored by: Schoolhouse Brewery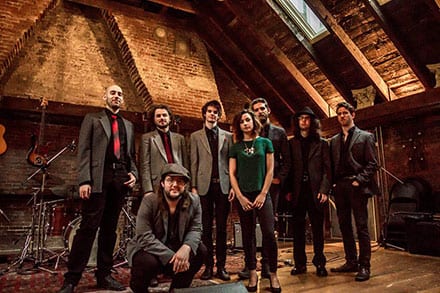 Roxy & the Underground Soul Sound, an 8 piece soul-funk band from Halifax, Nova Scotia, take the classic soul sounds of the 60's and 70's and put their own spin on the recipe of groove. The band lays down beats that are sure to set the dance floor on fire, making it easy for Roxy, the five foot fire cracker of funk to melt your heart. She means what she says … a vocal powerhouse who delivers soulful, straight from the heart tales of love won and lost that are sure to leave you dancing all the way home.
Starting in 2012, Roxy & TUSS have travelled around Nova Scotia and New Brunswick and on their tour last spring, ventured into Ontario and Quebec. In July 2014, they won the Galaxie Rising Star Award at the Halifax TD Jazz Festiva,l which made it possible for them to complete their debut album "Don't You Know?" featuring the single "Puppet". The album was produced by award winning musician and songwriter, Erin Costelo, recorded at the Echo chamber with Charles Austin, and mixed with Costelo and Thomas Stajcer at New Scotland Yard. Recently, the group won Nova Scotia Music awards for best urban and best new group recording, as well as Halifax's the Coast gold award for best Rn'B Band.
Bringing an authentic yet refreshing take on the music of yesterday, Roxy & TUSS continue to preach the message that it's time to get up and get down! Performing mostly original material, the group throws in timeless hits as well as lost gems for the funk fanatics in the crowd. Winning the hearts of audiences and industry professionals alike, Roxy & the Underground Soul Sound hope to see you and your dancing shoes soon.
Deep Roots looks forward to welcoming Roxy & TUSS to this year's Festival and yes, bring those dancing shoes!
For more visit: