Sponsored by: TC Media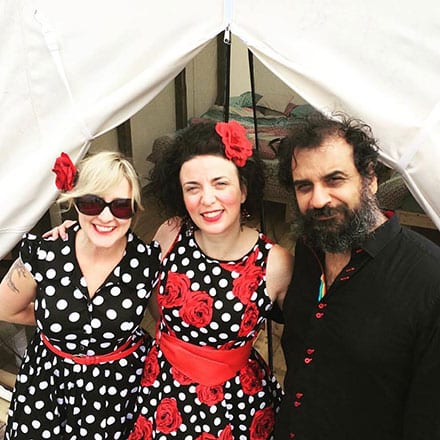 2016 Juno winners, The Swinging Belles, a swing band for kids from St. John's, NL, are intent on getting both kids and adults to kick up their heels and have a swinging good time with the whole family!
The Swinging Belles feature child educators and performers Laura Winter and Erin Power joined by guitarist extraordinaire Duane Andrews. This show is all about getting kids and parents out to have a dance and enjoy some swing country and jazz … kid style. As primary school teachers, both Laura and Erin know first hand the joy that kids feel when they can boogie to some good time music, and as parents, Duane and Erin know the importance of enjoying the music that our kids are listening to! The show is packed with music, interactive storytelling and dancing … lots of dancing!
Both Erin and Laura have recently completed Masters degrees in Education and Folklore respectively. They have been working in the classroom for the past number of years and their love of folk, swing jazz and country music seeped into their pedagogy and is showcased through songs and stories supported by guitars, mandolins, banjos and ukuleles. By night, the two are part of folk/country group The Dilettantes who have recorded 3 albums (The Topsham Cottage Diaries, Otters and Elders, and Roots and Boots) as part of the RPM challenge and have performed regularly in the local music circuit. Guitar guru Duane Andrews is an established international performer having performed on stages such as the Newport Folk and Montreal Jazz festivals. He is an accomplished composer and producer as well. This multi-award winning artist is thrilled to be able to bring his passion for Swing Jazz and NL traditional music to an enthusiastic young audience.
The Swinging Belles' first album "More Sheep, Less Sleep," recorded with funding support from MusicNL and the NL Arts Council, and produced by our own Duane Andrews, is available at Fred's Records and on iTunes.
We look forward to welcoming this group and watching audience members of all ages being carried out onto the dance floor (or at least not sitting still in chairs) at this year's Deep Roots Music Festival.
For more visit: